Events
Following February's European tour, I am planning a series of events online and here in Sweden this spring.
In this free online event, hosted by the Dark Mountain Project, I will be in conversation with Andrew Boyd, author of I Want a Better Catastrophe: Navigating the Climate Crisis with Grief, Hope & Gallows Humour.
2pm EDT / 7pm BST / 8pm CEST – free tickets available here.
31/3 – WRITING ACROSS BORDERS WITH SARAH THOMAS (UPPSALA)
A breakfast event with researchers at Uppsala University where I will be in conversation with Sarah Thomas, author of The Raven's Nest, about writing that crosses the borders between academia and the world beyond.
8.30am CEST – get in touch if you would like to join us for this event.
A free online event with three of the thinkers whose work resonates most deeply with the lines of thought that I am following in the book.
2pm EDT / 7pm BST / 8pm CEST – register here.
The first public gathering in Skolunkans, our new events space at a school called HOME. Join us in the old shoe shop in Östervåla for an evening of stories with Sarah Thomas, author of The Raven's Nest, and bring your knitting, mending or crafting.
Skolunkans (The Old Shoe Shop), Åbyvägen 12, 74046 Östervåla, Sweden.
5pm CEST – tickets by donation.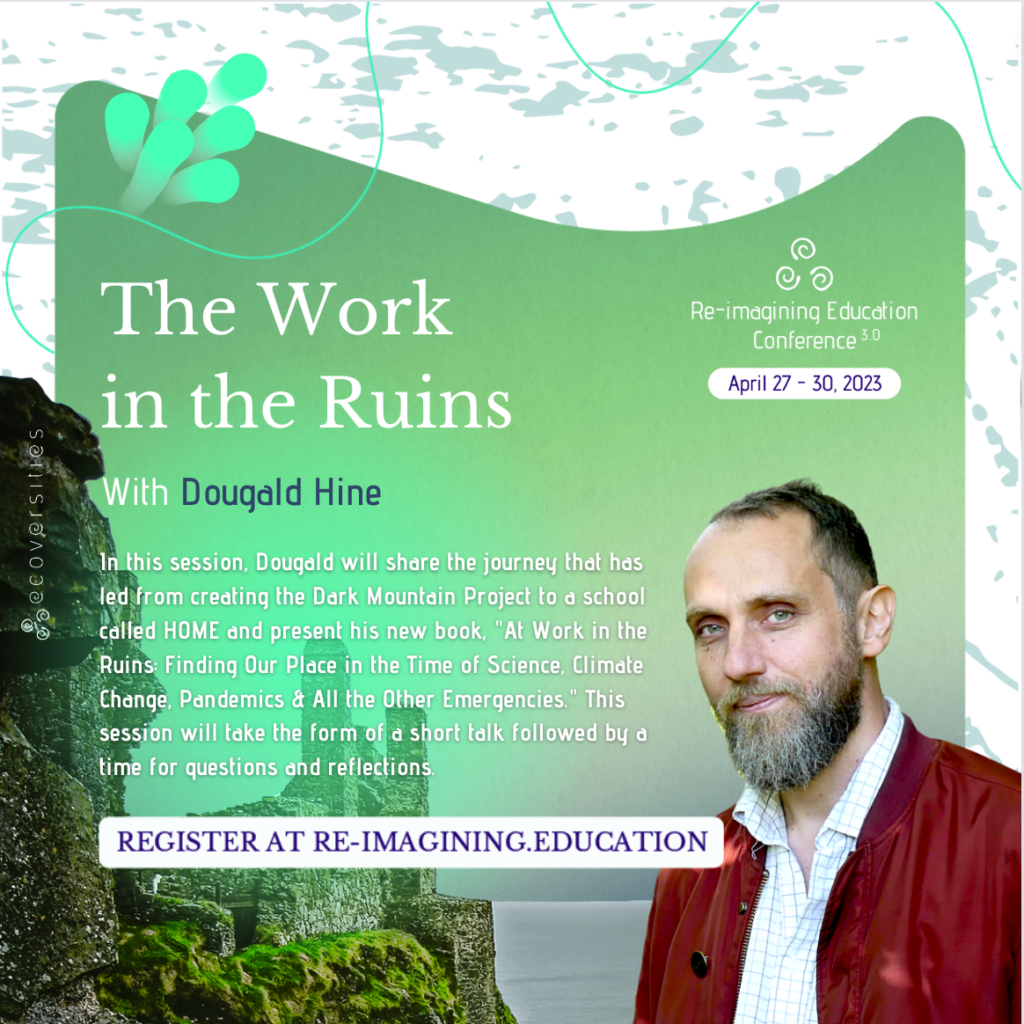 I'll be speaking about the journey from Dark Mountain to a school called HOME and introducing At Work in the Ruins as part of this year's Re-Imagining Education Conference. This is a four-day online event brought together by the Ecoversities Alliance with speakers from around the world.
Register for the conference here. My talk is at 11.30am BST / 12.30pm CEST on Friday 28 April.
The Climate Existence conference has been a touchstone for my work. It's where I first met Vanessa Machado de Oliveira in 2018 and where David Abram and I took part in a dialogue with Archbishop Antje Jackelén in 2016. I'm delighted to be returning to give a keynote at this year's conference where other speakers will include Stephen Jenkinson.
Full details and booking for the conference here.