Selected Works for Uncivilised Times
For the first time, Walking on Lava brings together a one-volume introduction to the Dark Mountain Project, including the manifesto that was its starting point.
Launch book website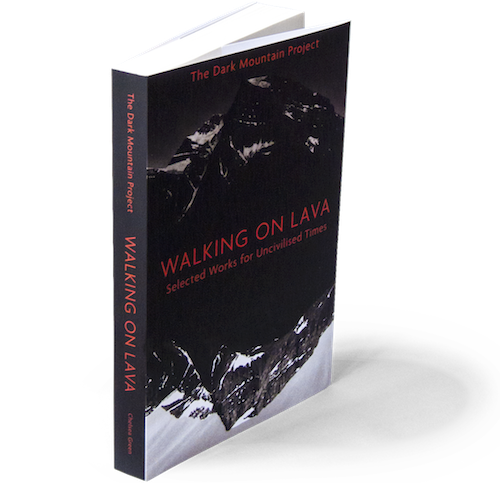 This new paperback collection brings together essays, fiction, poetry, interviews and artwork selected from the first ten issues of Dark Mountain.
In the autumn of 2016, I sat down with the members of the Dark Mountain editorial board – Charlotte Du Cann, Nick Hunt and Paul Kingsnorth – to reread everything we had published to date and pick out 40 pieces with which to introduce the project to new readers. With many of our earlier issues now sold out, this is also a chance to bring some classic Dark Mountain contributions back into print.
The book opens with the manifesto that launched the project and the selected works are organised around the eight principles with which the manifesto concludes.
Walking on Lava is published in the US and the UK by Chelsea Green.
"Don't read this book if you're not willing to be shaken and unsettled. Unflinching and unafraid!"—Bill McKibben
"This book changed my life. It puts into words the sense of utter hopelessness I feel about the fate of the world as we have known it. And yet, miraculously, it gives me 'hope beyond hope' for what lies ahead. The Dark Mountaineers are blazing new trails into, and through, the hot lava of our uncertain future."—Eric Utne
"We humans are in trouble, and because of us, most of our fellow species are also in trouble . . . To find our way through the ruins and beyond, we need more than clever technology and magical markets. We need an alternative to the industrial mindset . . . We need the kind of diverse, clear-eyed, ecologically wise imagining gathered in this book. A bow of gratitude to the denizens of Dark Mountain."—Scott Russell Sanders
"A collection by turns magical, brave, earnest, and mournful but truthful throughout. The authors point the way down a faint but still visible trail beyond domination and back to our once and future place as humble animals in love with our world."—Lierre Keith

Order the Book